How I Did It: Creating a Personal Style Guide
I remember going clothes shopping over a decade ago, with a very picky and style-oriented friend, and they ran around the store, picking up tops and scarves and holding them up to my face. As I tried clothes on, they evaluated the drape of the material, and how the cut of each garment suited my body.
I left the store with one pair of trim cropped navy pants with a higher waist than anyone was wearing in 2005, and five of the same boatneck tee shirt in different solid colors, and they were all truly perfect. In hindsight, this person probably should have become a stylist, but that's not really relevant to where we're going with this story. 

Before that shopping trip, I had no idea there were colors that might look better than others on me, (though someone had told me when I was eight years old I was very lucky to be able to wear peach.) The attention to detail of how a dress might bunch up when I walked, or a skirt that hit too low on my calf, a waist line that cut my shape at the wrong point, the awareness of these elements have come to me slowly, but now I feel like I can't unsee them. 

My style is something people have always commented on, and it's a creative expression I really enjoy. Over the course of 2017, I went through an intensive process of finding myself via my wardrobe. When I got clear about my personal style, I actually got much clearer on who I am as a person, and what I want to communicate to the world with the way I visually present myself. 

I could write an entire blog just about personal style, it's something I'm a huge nerd about. I love helping friends and family narrow down their look, and finding their own personal style goal posts so they can be assured every outfit will suit them perfectly. I want to offer a few tips of how you can get started on this road if you're so inclined, and share my own personal style guide that I've written for myself, and you'll see just how in depth my process goes. 
1. Identify your style icons
Not just the people whose fashion you love, but the people who you see and think "I would totally wear that!" Start a Pinterest board of your style icons' outfits that most speak to you, and once you have 15-30 photos to look at, start to narrow down what the elements are that the different outfits have in common. A few of my top style icons are Alexa Chung, Ginnifer Goodwin, and fashion & beauty blogger Keiko Lynn, all of whom you can see in collage above.  There are TONS of celebrities whose style I admire who just wouldn't make sense as my personal style icons, because I could just never wear what they wear and pull it off. It's really about finding those pulled together and perfectly styled looks that you feel like you could feel like yourself in.  You can check out my full Pinterest board too, if you'd like. 
 
2. Evaluate your current wardrobe
Take EVERYTHING out of your closet. All the clothes. You have to try on anything you're keeping. Only keep what makes you feel good about yourself. Don't keep items because they were a great deal, or you really want to make yourself wear them, or because they were really expensive! For items that are in good shape and relatively new, I like sites like Poshmark for selling, they make it very easy, I promise, and you get to set your own prices, so you can decide what something is worth to you. Anything that's not worth your time to sell, you can either send in a clean out bag to ThredUp (beware, you get very, very little money for your clothes through ThredUp) or donate to a local charity.

As you're going through your current wardrobe, take note of the kinds of clothes you find yourself getting rid of that fall into the "perfectly good but I don't feel great in them" pile. For me it was fit and flare dresses and 90% of cardigans. I want to love them, I feel like I should love them, but those shapes just don't look right on me, no matter how much I felt they should. It helped my self-esteem so much to be able to say, "it's not me, it's you" to a whole bunch of clothes I never felt great about myself in.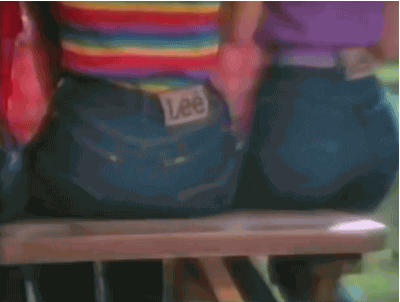 3. Look at what you have left.
Is it a pile of v-necks? 8 pairs of wide legged denim? Look for the patterns, and start thinking about what might be missing in order to turn those individual pieces into great outfits. Look back at your Pinterest board- how do you style icons style those pieces? For me it was striped 3/4 length boat necks. They were in a million photos I pinned, and I didn't have any. What I did have were lots of dark, high waisted jeans. 
 
 4. Get clear on your coloring.
There are many different schools of color analysis, and you can even get a pretty good sense just by looking at some guides on the internet. I chose to have a color analysis done because I was having a difficult time making the determination between a few different seasons, and really wanted to have a professional give me some clarity.  Now that I'm confident in my best colors, it makes it really easy to say no to 95% of impulse clothing purchases, which makes color analysis  definitely a worthwhile investment. 

5. Make a "what's missing" list.
Evaluate your current wardrobe vs your Pinterest style, and make a list of specific items your wardrobe is missing. From now on these are the ONLY clothes purchases you're going to make. I dug so deep selling clothes that didn't work for me, and turning that money around and buying the missing items in my wardrobe, that I had almost no "missing" items left for 2018, and had spent very little money. I this year have bought three items, and they were all used, and they were all on my list. I have two more items on my "missing" list, and I'm waiting for the absolutely perfect matches, and I might not even find them this year.  Imagine if you were so content with your wardrobe that you only bought five items of clothing or shoes (used at that!) all year long, and they weren't dependent on the whims of each season's trends? It's pretty nice.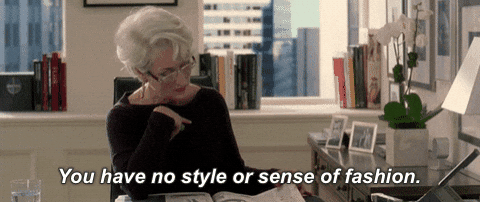 If you really want to dig into some nerdy style stuff, start poking around the internet searching for Kibbe Style Archetypes. This is a whole system of evaluating someone's lines, proportions, and overall vibe to match them with a style archetype that doesn't change with age or weight. I have loved learning about this stuff, and it has definitely shaped my style evolution.
If you're not sure where you start but want to, plug in "Name of Your Style Icon + Kibbe" in a Pinterest search and you will likely get some pins pointing you towards the first steps in determining your style archetype. Mine is Flamboyant Gamine, which is shared by Audrey Hepburn, Kelly Osbourne, Zooey Deschanel, and Carey Mulligan, among many others.

I have found most people say to themselves "ohhhhh, that's why I look terrible in _________, now I can stop trying to wear those!" when they find out the guidelines for their type. What I really love about this system is that unlike the traditional "oh you're a pear so wear things that make you look less pear shaped" the Kibbe archetypes are all about leaning in to the lines and qualities your body already possesses, and the same system works regardless of gender expression. (There are some problematic issues with the 1970s-80s language Kibbe uses, including appropriating the terms yin and yang, but I haven't found another comparable model.) 

I mentioned at the beginning that I had written a style guide for myself. This style guide is intensely personal, because it not only describes the way I dress, but how I want to be seen by the world, and so really only suits me. I hope by sharing it, you are sparked to create your own style guide.  It's long and very detailed, so only dive in if you're really interested. Otherwise, feel free to stop here, and get started on pinning down your own personal style. 
(If you're wondering, because you wouldn't be the first, I do hope to offer in person styling and wardrobe counseling in the future.  I'll let you know when those services are available, but it's in the works.) If you're not feeling ready to work on a style guide, but would like to start challenging yourself to prioritize your style and get out of your every day comfort zone, I did so much growing with the help of the MappCraft: Tiny Closet Tons of Style facebook group and their outfit challenges, it's a really nice little community, though it is specifically women only. 

Now, on to the style guide:

The Helpful Sprite maintains a pulled together look that highlights her small-scale and deftly walks the line between dressed up and casual wear at all times. Her judicious use of bold color contrast give the impression of fun without being overwhelming or intimidating and paired with tailored silhouettes, and minimal ornamentation creates a sense of creative competence that invites requests for friendly assistance on a variety of subjects. The Helpful Sprite is an open book, and you can read all about her in her wardrobe choices.

Skirts are above the knee, mid to high waisted, and either a straight/A-line mini or pencil. Pants are skinny, legging-like denim, or cropped, slim cut slacks in crisp fabrics. Boyfriend jeans are possible for casual wear but should be cropped and paired with a slim fitting top or even blazer to maintain the feeling of purposeful style. Tops never fall below the hip. Casual elements should always be balanced by something equally elevating- a graphic tee with a sparkling or leather mini, distressed jeans with a perfectly tailored blazer. Dresses are either pencil, A-Line shift. Blazers and pullovers are the preferred outer layer, with a peacoat, or a small scale puffer with a whimsical, styled element, either in cut or fabric pattern, for winter. Edgy elements can be incorporated, but only in a limited context that conveys comfortable confidence; the Helpful Sprite should never appear intimidating. Graphic Ts should be vintage or carry simple, clever messages or imagery. Button down shirts should only be worn under other garments and should have peter pan or small pointed collars. Boat necks, crew necks, and funnel necks are all excellent cuts for the Helpful Sprite.

Patterns should never be flowing or busy, and only small scale in the case of polka dots or stripes. Large-scale geometric patterns and color block items emphasize the Helpful Sprite's small scale, and should primarily be looked to for formal outfits. Shoes leave the most significant amount of creativity to the Helpful Sprite. Flats should ideally be a pointed toe. Any heels should be low in keeping with the practicality and small scale of the Helpful Sprite. Oxfords in warm leather or unexpected bright colors, high top sneakers, combat boots, and ankle boots are all staples of the Helpful Sprite's shoe collection. Toes are never visible, even in summer, as they take away from the Helpful Sprite's clean and careful look.

The Helpful Sprite uses the brightest swatches in her Toned Autumn color palette to create visual interest and an impression of fun without washing out her soft, small facial features. Mustard yellow is a signature color, always present in a structured bag if not also elsewhere. Other vital colors are a soft teal, spruce green, indigo, brick & burgundy. Classic black, white, and grey outfits should be punctuated by a bright bag, neck scarf, or unexpected bright shoe. Scarves should be in solids in the signature colors of the Helpful Sprite, either chunky knits in an infinity style cowl, or a half knotted pashmina, and caution should be taken to be sure there is never an overly bulky appearance to them. Plaids in the Helpful Sprites signature colors may be used with caution and should err on the side of preppy rather than woodsy.

Jewelry should be minimal, primarily stud earrings, or a single pendant on a chain that falls no lower than mid-sternum. The occasional collar length statement necklace can be used only when the rest of the outfit has minimal detail. Metals should be gold or mixed metals, but never silver or rose gold alone. Her makeup, like her wardrobe, walks the line between natural and dressed up. She often wears lipsticks in the boldest colors her palette allows for, eyebrows are always lined, and warm peach blush brings a warm flush to her cheeks, but eye makeup is minimal. Mostly bare skin emphasizes the low maintenance, effortless style of the Helpful Sprite. Hair is never longer than shoulder length and has bangs if longer than ear length. Color can vary from copper to a deep brown. Glasses are large scale without detracting from the Helpful Sprite's face, rounded to echo her facial features, and further emphasize the knowledgeable air to her presence. The Helpful Sprite's style is slightly playful while verging on minimalist, approachable, and gives an air of enthusiastic competence.
You know you're going to want to pin this for later:
 
Please reload
Hey, I'm Jillian, and I'm creating an extraordinary life on an ordinary budget.
I'm just an actual person, trying to make sh*t work. I'm doing pretty okay at it.

About Me.
Hang out with Jillian on Instagram!